CD3/2009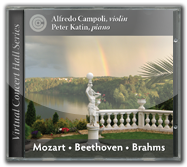 Alfredo Campoli & Peter Katin play Mozart, Beethoven & Brahms
Alfredo Campoli, violin
Peter Katin, piano
The Fairfield Halls, Croydon
Campoli's home, Southgate
Recordings: 24th September 1963 & c. 1973
| | |
| --- | --- |
| | A special Chamber Music addition to our catalogue |
---
Track listing
Time
Wolfgang Amadeus

Mozart

:

Violin Sonata in A major, K526

22' 24"

1
I Molto allegro
9' 26"
2
II Andante
6' 34"
3
III Presto

*

6' 24"
Ludwig van

Beethoven

:

Violin Sonata in C minor, op 30 no 2

24' 47"

4
I Allegro con brio
7' 23"
5
II Adagio cantabile
9' 05"
6
III Scherzo: Allegro

†

3' 22"
7
IV Finale: Allegro
4' 57"
The Fairfield Halls, Croydon, 24th September 1963
Johannes

Brahms

:

Violin Sonata no 3 in D minor, op 108

22' 15"

8
I Allegro
7' 33"
9
II Adagio
5' 29"
10
III Scherzo: Un poco presto e con sentimento
2' 46"
11
IV Finale: Presto agitato
6' 27"
Campoli's home, Southgate, c. 1973
Total time:
69' 27"
*Sample extract (control with the Sound Sample tab at the top of the page)
†This track may be heard on the Sampler CD
Remembering Alfredo Campoli
Having been born with such a natural talent, Alfredo Campoli (born in Rome, 1906; died in Berkshire, 1991) might reasonably have been expected to build his life around that talent. He did not; he enjoyed many activities and simply played when asked.
It was an unusual talent in the sense that he might be compared with Maria Callas or Luciano Pavarotti, not only because his tone was absolutely unique but also because he based his approach to performance on 'bel canto'. Just a few notes, and his wonderful sound is instantly recognisable. Unfortunately, the recordings of his performances that remain, although providing some insight into his tone and style, do not do full justice to the enormous sound he drew from his instrument.
Alfredo's first teacher was his father, leader of the orchestra at the Accademia di Santa Cecilia, Roma. His mother was a dramatic soprano who had toured with Scotti and Caruso. The family moved to London in 1911, and five years later Alfredo was already giving public concerts. By the age of thirteen he had won so many prizes that he was asked not to compete in future competitions. In 1919, after winning the London Music Festival gold medal, he went on to tour with such singers as Nellie Melba and Clara Butt.
During the Depression there was little demand for a soloist, and Alfredo formed his Salon Orchestra and the Welbeck Light Quartet, playing in restaurants in London and other such venues. He first appeared at a Prom in 1938 and, during the Second World War, gave numerous concerts for the Allied troops. After the War, he had extended tours of Europe, Southeast Asia, New Zealand and Australia, and eventually clocked up over 1,000 BBC broadcasts. The current masters of that illustrious body have since forgotten his great contribution to the broadcasts of that time, and show no interest whatever in permitting listeners to hear his glorious sound. Alfredo Campoli owned the Dragonetti Stradivarius, but it was his 1843 Rocca that he used predominantly, the Dragonetti being housed in the bank for security.
Alfredo made his American début in 1953, playing Lalo's Symphonie Espagnole with the New York Philharmonic under George Szell, and in 1955 gave the first performance of the Violin Concerto by Sir Arthur Bliss, which was written for him. In 1956 he twice toured the Soviet Union.
He considered the phrasing of each passage he played, and if he could achieve 'bel canto' by shortening or lengthening a note then he would do so. He was not afraid to lift the bow from the strings: an act that seems to be completely avoided by today's exponents of the instrument. Brief breaks of sound can add tremendous drama and power to a performance, even when not indicated by the composer.
In 1961 I made a private recording of Alfredo Campoli playing the Beethoven Violin Concerto with the Hayes Orchestra in Bromley, Kent. The cadenza from the first movement is just a miracle. My wife and I subsequently visited Alfredo at his home in Southgate on many occasions, and I had the great pleasure and privilege of recording him in rehearsal with Peter Katin, Daphne Ibbott and Valerie Tryon. I also promoted his last Queen Elizabeth Hall recital, which I also recorded and hope to publish at a later date.
In 1963 I recorded a lunchtime recital in the Fairfield Halls, Croydon, given by Alfredo with Peter Katin. Two sonatas from that recording are published on this CD, together with a Brahms sonata, recorded by the same duo in Alfredo's Southgate home.
The recording in Alfredo's home was made in his music room, a rectangular room approximately eight metres by four; in Vienna, in the days of Brahms, composers were more likely to hear their works performed in private homes, palaces and castles rather than in concert halls, and the sound in such rooms is quite different from that in a purpose-built concert hall. It is an intimate sound, and this recording provides an historic document of the great maestro performing in his own home. Lovers of the violin who did not hear Alfredo Campoli playing in a live situation missed the opportunity to hear probably the greatest English violinist. I have decided to devote as much time as possible to issuing the substantial collection of private recordings I made of him during our years of friendship, with the blessing of his then-surviving widow, Joy Campoli.
—Geoffrey Terry
---